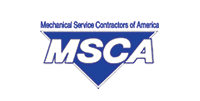 mechanical service contractors of america of Cleveland
About
MSCA Cleveland is a non-profit organization for HVACR contractors, that provides education, marketing and labor-management services to assure its members deliver quality performance, value and expertise for all building system needs.
Goals
The goals of MSCA are:
Promote Integrity
To promote the skill, integrity and responsibility of its members to the public.
Welfare
To promote the Mechanical Contracting Industry and to ensure its interests and the welfare of its members.
Standards
To encourage sound and efficient business methods, maintain high professional standards in the conduct of work and to combat unfair practices.
Affiliation
To provide for affiliation with the Mechanical Contractors' Association of America, Inc. (MCAA) and the furtherance of the objects of MCAA.
Exchange of Ideas
To foster the meeting and exchange of ideas, technical data and business information between Association members, the MCAA, other associations, manufacturers, architects and engineers.
Representation
To represent the membership in its relations with its employees and groups which may represent its employees.
Adam Wallenstein
Chairman
(Neptune Plumbing & Heating)
Dave Sommer
Co-Chairman
(Smith & Oby Co.)
MSCA Cleveland Contractors