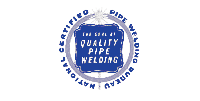 Certified pipe welding bureau of Cleveland
About
The Certified Pipe Welding Bureau (CPWB) of Cleveland, Inc. is a non-profit construction trade association representing union affiliated plumbing contractors, incorporated in the State of Ohio, with a 501(c)(6) IRS classification.
The CPWB of Cleveland is affiliated and The National Certified Pipe Welding Bureau (NCPWB) which is a subsidiary the Mechanical Contractors' Association of America (MCAA). Membership in the NCPWB is mandatory to join the CPWB of Cleveland.
member assistance
The Cleveland Certified Pipe Welding Bureau will assist with the following:
Sending welding and brazing test records to the State of Ohio for proper certification.
Recording welding and brazing test records in the NCPWB database.
Recording welder continuity reports in the NCPWB database.
Engage
To engage in research and educational work to assist the affiliated contractors in furnishing safe and dependable installations through the use of qualified Welding Procedure Specifications (WPSs) and qualified welders.
Keep Informed
To keep contractors informed of the latest methods, information and data on welding, safety and health.
Establish
To establish and qualify uniform Welding Procedure Specifications (WPSs), which conform with the requirements of Section IX, ASME Boiler and Pressure Vessel Code, and which comply with other nationally recognized codes for various methods of welding.
Develop
The CPWB Welding Procedure Specifications are developed and qualified jointly by the members of the CPWB and can be adopted by other members of the CPWB under the provisions of the B31 Codes for Pressure Piping.
Create a Force
To create a force of welders uniformly trained and qualified following the uniform WPSs, thereby permitting the interchange of such welders between CPWB members without unnecessary individual duplication of such qualification tests.
Assist Contractors
To assist contractors in providing the owner with quality welding at reduced costs through the use of certified welding.
Promote
To promote, develop the use of and generally maintain the quality of welding in the piping industry.
Michael J. Gallagher
President
(The John F. Gallagher Co.)
James Primozic
Secretary/Treasurer
(Northeastern Refrigeration Corp.)
CPWB Cleveland Contractors